Koos zoekt een huis- Book review
Making children aware of nature, the environment and sustainability is now possible with the picture book Koos zoekt een huis. Koos the Koala and his friends positively and playfully plant a green seed in toddlers and preschoolers. This book is highly recommended!
Meet Koos the Koala
Meet the most lovable, sweet and brave koala ever! Our earth is having a hard time and it is clear that something has to change, but where to start?? Koos the Koala is the first character in a book series whose picture book was published.
This book series introduces children and parents to Koos and many more fun characters around the world, each dealing with a different environmental problem, through an adventurous and non-believing book series.
Koos is looking for a home
In this first book you will meet Koos the Koala. He takes you on a low journey. Besides a (pre-)reading book, this book is a search and discover book. On each page you can look for the faithful friends and objects that travel with Koos. The book takes you into the life of the main character, who one day sees trees (including his house) disappear, due to large bulldozers in the forest.
Together with his friends he travels through Australia in an exciting adventure to find a new home.
Getting to know nature and the environment
With Koos zoekt een huis children learn about nature and the environment in a playful and cheerful way. At the back of the book are facts and tips for your child on what they themselves can do for nature and the environment
The creators of this book series
The creators of Koos de Koala are Liselot and Yondi. Together they form the Dutch start-up Zoobiyoo. During a trip through Australia, they saw with their own eyes how nature is affected. The coral reef disappearing, forest fires, deforestation and endangered species.
They have been developing Koos and Zoobiyoo for more than two years. They want to make children and their (grand)parents aware of the climate, the environment and teach each other to be a little love for our earth. And they certainly succeeded with this book.
Once I was a backpacker in Australia for a year and this country stole my heart, but not only because of that I am so enthusiastic. The message Liselot and Yondi give in this book and the beautiful illustrations really make this book a 'have thing'.
Why this book is so good
Koos zoekt een huis is really a gift to give to your (grand) children. Why? Not only because it is a super fun read-aloud book and reading aloud is of course very good for children, but also because it is so much more than just a (read-aloud) book.
Children can learn from it, learning about the environment, nature and sustainability, as well as searching and exploring. The book is so beautiful, with the clear story and the beautiful illustrations. You keep looking at the drawings.
You can buy the book through the site of Koos the Koala, nice for the holidays!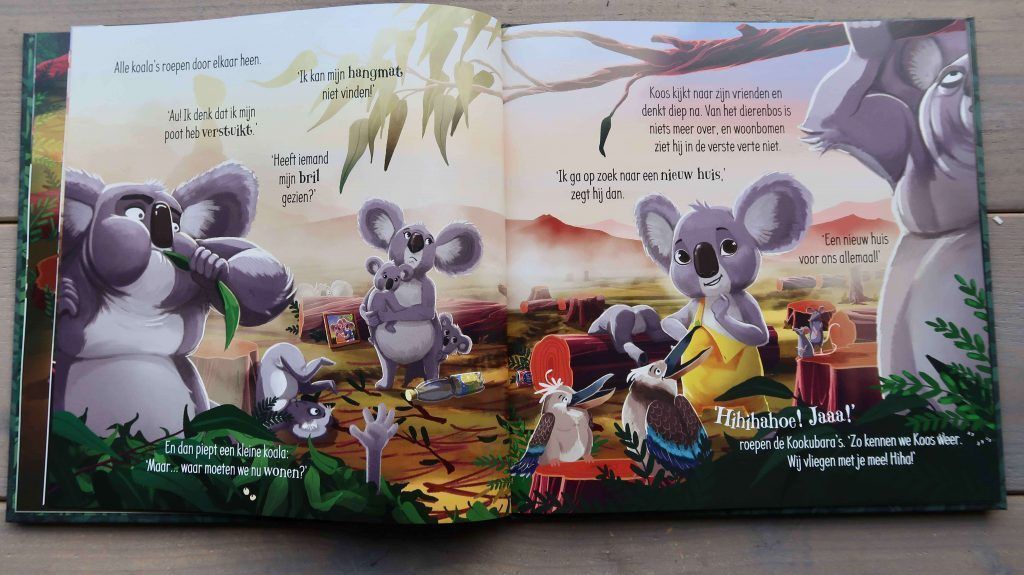 Koos and Moos on an adventure
Koos and Moos can also be followed online. Indeed, since November 11, they can also be seen on YouTube and in the series Koos and Moos. In this first installment they go on an adventure together for a green earth!