For the first time to school with Loetjoeboek
Last Sunday you could read that my little man is about to go to school for the first time. That is a bit exciting. You have to make new friends, are suddenly very long away from mom and start learning new things. Loetjoe, the main character from the picture book Loetjoeboek, also finds this very exciting.
We received this beautiful read-aloud book and it fits exactly with the little man's world of experience.
For the first time to school with Loetjoeboek
The countdown has started. We met, received information, bought gym shoes and picked out a lunch box. In three weeks the little man will turn four and then it will happen. Mister is going to school for the first time and he finds it a bit exciting.
Apart from the fact that he is really ready and eager for it, it is quite a change. From spending whole days with mommy, having to do little and playing a lot, he will go to school five days a week. That's going to be fine, but I understand that the little guy is secretly a little anxious.
Miffy book by Pierre Carriere
Some time ago we received a picture book that fits exactly with the phase we are in. A book the little man wanted to read immediately and then had lots of questions about.
Loetjoeboek tells the story of Loetjoe, a sweet little creature that lives on the island Senang. He plays soccer with his friends all day until his birthday. He has a nice birthday but after his birthday he lies awake for a long time. Loetjoe goes to school for the first time and that's pretty exciting.
How does Loetjoe experience his first day at school? And would he like to come back afterwards? You can read it all in Pierre Carriere's picture book.
Dreamworld in acrylics
As a creative mom who did a year of art school, I was immediately drawn to the fantasy world that illustrator Roxanne Monsanto has created with acrylic paint. Each page is a work of art in itself. For parents so extra fun to read aloud because the picture book is just very nicely designed.
Children are watching their eyes while listening to the story. My little man had a good read through the book a few times at first. To look at all the illustrations and discover new things all the time.
In short, a beautiful picture book to read and explore together.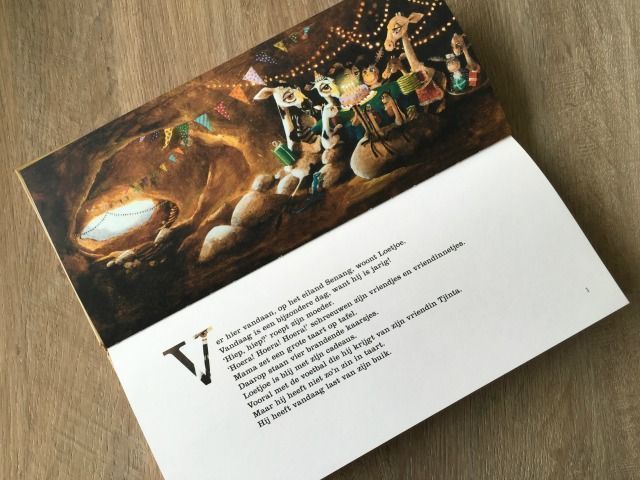 Are you curious?
We have already read the book several times and I suspect we will do so more in the coming weeks. Going to school for the first time is quite exciting and Loetjoeboek makes this tangible and recognizable for my little man.
Do you want to discover Loetjoeboek too? Is your child about to start school or are you just looking for a really nice picture book to read aloud?? You buy Loetjoeboek at e.g. Bol.com for €19,50.
Does your child(ren) find it exciting to go to school for the first time? Did you know Loetjoeboek already?
♥ ♥ ♥ Fulltime Mama uses affiliate links. This means that if you click on one of the links, we may get a small commission on it. It costs you nothing extra, but it does give us something in return.
With these proceeds we can maintain this website. We also sometimes get paid for an article or we get a product in exchange for a blog post. Our opinion remains unchanged and honest. For more information, please read through the disclaimer. ♥ ♥ ♥