Lego Duplo is good for your child's development
About'four years ago we celebrated the birth of our little man with a maternity shower. I had made a list of gift ideas and that included Lego Duplo. Mister was only a few weeks old but got his first boxes of Lego Duplo.
Why? Lego Duplo is good for your child's development and it is a toy that will last a long time and will always be fun.
Lego Duplo as a maternity gift
Also after the birth of the youngest I asked for Lego Duplo. At only 4 weeks old she received a beautiful pink box of Duplo and the cool Duplo house. You better have it in the house because your child can use Duplo sooner than you might think.
Officially, the Duplo boxes state that it is suitable for children 2 years and older. My oldest played with Duplo from around 18 months old. My youngest is now 10 months old and loves messing around with the duplo blocks because the colors appeal to her and she can munch on the blocks.
Lego Duplo is good for your child's development
It remains fun to play with Duplo and in addition it is also good for the development of your child. When your children play with Duplo at a young age they learn a lot. Take a look;
Fine motor skills; just try to take a block and make a tower. For young children this is a super good exercise for fine motor skills.
Cognitive development; just name where the cube should go. On it, next to it, behind it, these are all concepts that are great to practice with Duplo. You also stimulate language development. Your child must observe, think and then act.
Social-emotional development; when your children play together with the Duplo they will have to share, make agreements and work together. Very young children can't do this yet but this way by playing together (or side by side) they will develop.
But actually it is just a lot of fun to play with Duplo. Building, playing, fantasizing and having fun.
Which Duplo set comes highly recommended?
Of course a basic box of Duplo is great for building. Want to stimulate some more fantasy play or just buy a really cool set? Then check out the new collection of Duplo 'Around the World'.
This collection consists of five sets that allow you to take a trip around the world in your own living room.
We received the set 'Polar Area' to have a sniff at the South Pole. What a cool set it is. I immediately fell in love with the whale whose mouth really opens.
I let the little man build the set himself. Mister is now four years old and really enjoyed building the igloo himself with the help of the instruction booklet. He needed a little help here and there but actually he could do it himself just fine. Even the little girl could appreciate this Duplo set, she delightfully rammed the whale on the table and threw the ice cubes.
Fortunately Duplo is extremely strong and indestructible so that was not a problem.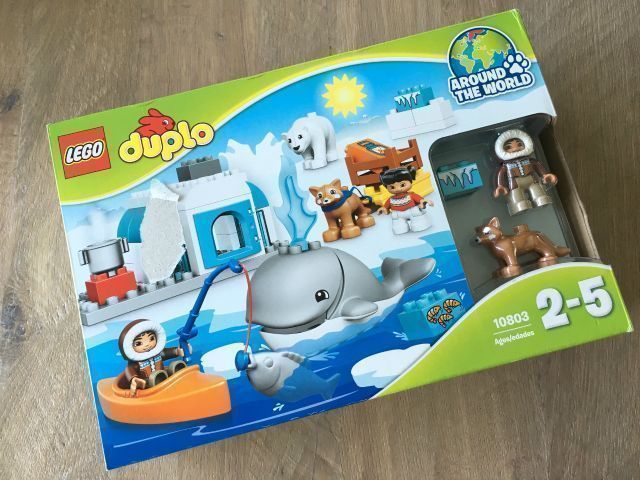 Around the World
In the theme 'Around the World' you can choose from five different products but of course there are many more cool sets from Lego Duplo. Here you can find the various sets, so feel free to take a look and choose your favorite product.
Do your children also play with Duplo? Do you think they learn anything from it?
♥ ♥ ♥ Fulltime Mama uses affiliate links. This means that if you click on one of the links, we may get a small commission on it. It doesn't cost you anything extra, but it does get us something.
With these proceeds we can maintain this website. We also sometimes get paid for an article or we get a product in exchange for a blog post. As a result, our opinion remains unchanged and honest. For more information you can read the disclaimer. ♥ ♥ ♥