Recreatiepark de Leistert – the place for a holiday with children
When the children have a nice holiday, so do the parents. For this reason, more and more families are opting for a holiday in a child-friendly location. Recreatiepark de Leistert in Limburg is such a place where a holiday with children is always a success. What's so kid-friendly?
You read it here.
On holiday in your own country
In the past year, many people have completely rediscovered the Netherlands, including my family. And if the weather is good, you really don't have to go abroad for a nice holiday. Looking for a destination in my own country, I looked at holiday parks in the Netherlands. Because we like walking and cycling during our holidays, Limburg is a great place for us to spend the holidays.
That is why I looked for a child-friendly campsite at holiday parks in Limburg. A part of the Netherlands where I am not very well known, apart from the touristic places such as Maastricht and Valkenburg. Time to see more of Limburg.
Accommodation at Recreatiepark de Leistert
If you want to discover Limburg, Recreatiepark de Leistert is the place to go. Both with young children (the park has a clear child-friendly character for children aged 4-12), but also with older children, families or groups, it is a great place to stay. Recreatiepark de Leistert can be found in Roggel and is the children's campsite in Limburg!
What immediately stands out at Recreatiepark de Leistert is the large choice of accommodation options. Because whether you like camping in simplicity or luxury, there is a holiday spot for everyone here.
Camping with the tent
We like to camp. For me, camping is freedom, having adventures and having the space. We prefer to camp with our own tent, we like the simplicity, the primitiveness of cooking on a stove, sleeping on a camping mat.
But also want the luxury of a swimming pool and play equipment for the children. Now the choice is how you want to camp at Recreatiepark de Leistert very big. If you come with your own tent, caravan or camper, you can opt for special camping spots with play set. This way you can keep an eye on the children from your chair. You can choose a camping spot with more comfort or privacy.
And if you want luxury besides that camping experience, you can book a private sanitary campsite with sauna. This is a fantastic combination! Traditional camping, but with a luxury twist.
Camping place Comfort Privacy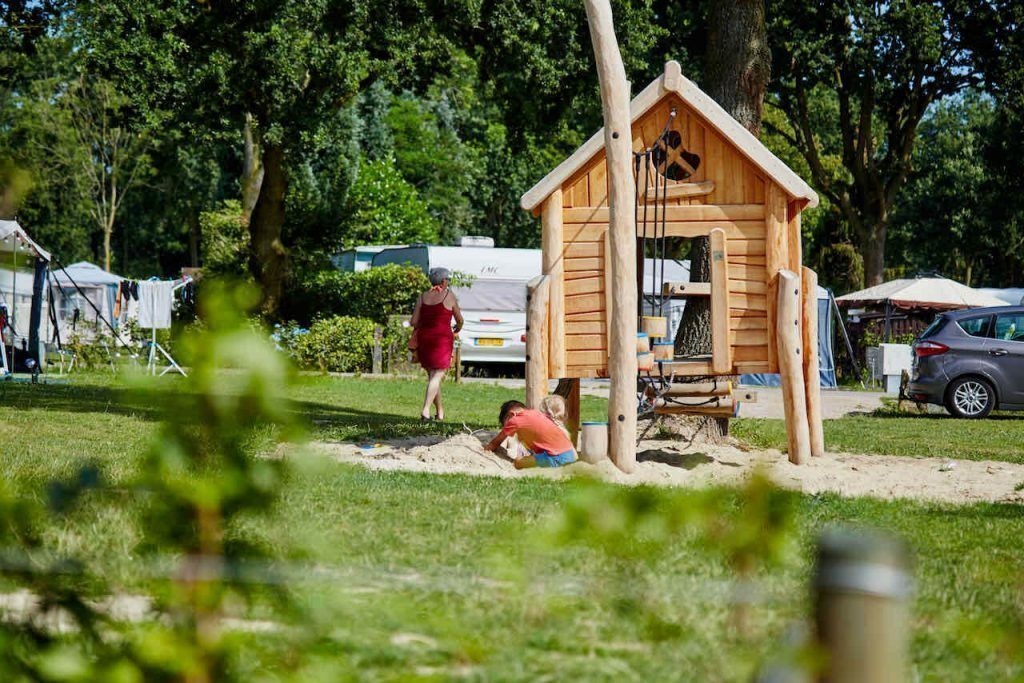 Camping place with play elements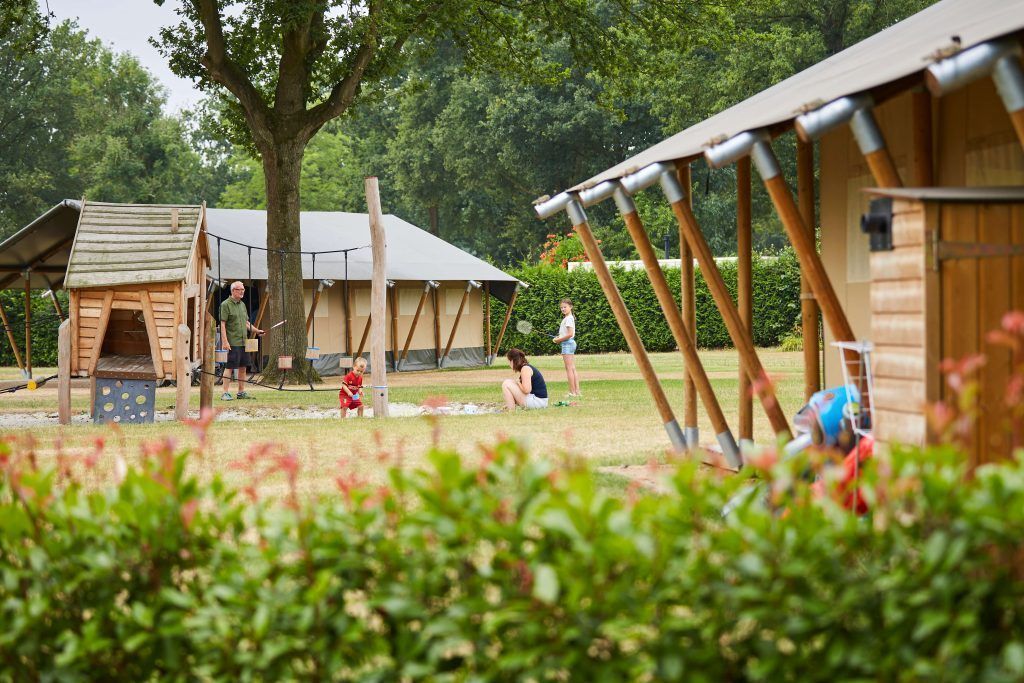 glamping
Rent a holiday home
If you prefer to rent a holiday home, even then the choice is large. Camping, but not with its own tent. Then look for a safari tent or glamping tent.
Rather not a tent, but a house? There is also plenty of choice at Recreatiepark de Leistert. You can rent bungalows, cabins or lodges at this holiday park.
On the site you can see exactly which holiday accommodation is 'KidsProof', which rental options there are and with how many people you can rent it.
When the kids are having a good time
When I didn't have children yet, I didn't think at all about whether a campsite was child-friendly. But since they could walk, we started looking for our holidays – and especially the locations – differently. Suddenly we were looking for campsites or holiday parks where the boys could have the time of their lives, where they could play with water and where there would be playground equipment. Because if they are having a good time, then we automatically are too.
Recreatiepark de Leistert has it all right, because if there is a place for children anywhere, then it is this holiday park in Limburg.
The park facilities
Why is De Leistert recreation park in Limburg the place to be for a holiday with children?? It's actually obvious when you visit the site. De Leistert is now really a recreation park that has that child-friendly character for children aged 4-12 years old. Here you can find, among other things, the following activities for the children:
Aventuria – the place where the kids are in charge, where they can dance, do crafts and make friends.
18-hole Adventure Golf Course.
Sports, games and climbing attributes.
Heated outdoor wave pool
Bicycle cross track.
A jungle village.
But there is also plenty to do for older children
Are the children older, are you having a family weekend or are you away with a group of friends, then there is also plenty to do at this holiday park. Think of beach volleyball, bicycle rental, hyper bowling, Jeu de Boules, a rowing pond and a day beach.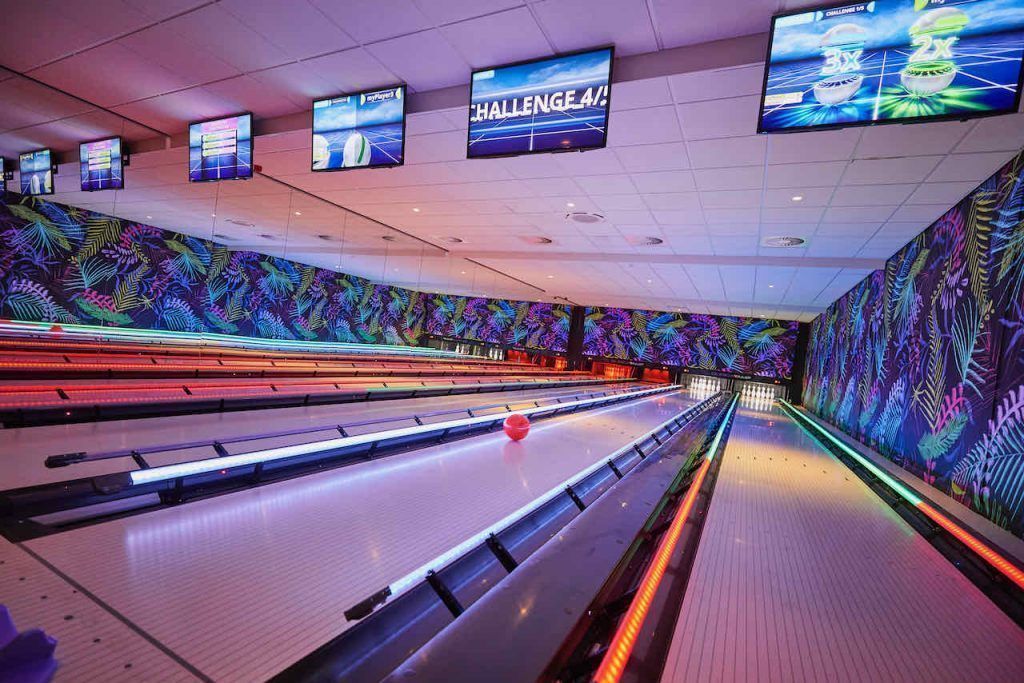 Hyper bowling
Make vacation plans
Recreatiepark de Leistert is the place for a holiday with children, I am completely convinced of that, but this destination is also a top location for families with older children and groups. If you don't have any plans yet, be sure to check out De Leistert's site because there are still last-minute deals!