Play-in Utrecht: playing, climbing and jumping
Kids-in, Jump-in and Climb-in, three activities together in a large indoor playground 'Play-in in Utrecht'. You can find Play-in near the Wall on the A2, so very easy to reach! Fun for a children's party, a study day, the vacations or the weekend.
An indoor playground for every occasion
Play-in Utrecht is an indoor playground for every occasion, You can of course go here when your child has a party, but Play-in is also great for the weekend, vacations, a study day or just when the kids feel like climbing and clambering. The different activities make Play-in fun for children (and adults) of all ages.
A large play area divided into activities
Play-in in Utrecht is divided into two. When you enter you have on the right side the entrance desk of Kids-in and on the left side you find the entrance for Jump-in and Climb-in and an arcade
Kids-in
Kids-in is an indoor playground entirely in beach style. Among other things, there is a slide in the shape of a shark's mouth, you can play among the fish, climb an underwater volcano. There is a clear toddler corner and you can create your own unique children's party.
You can choose one of the Party Rooms: the Tropical Beach-, Ice Princess-, Pirate- or Disco Room.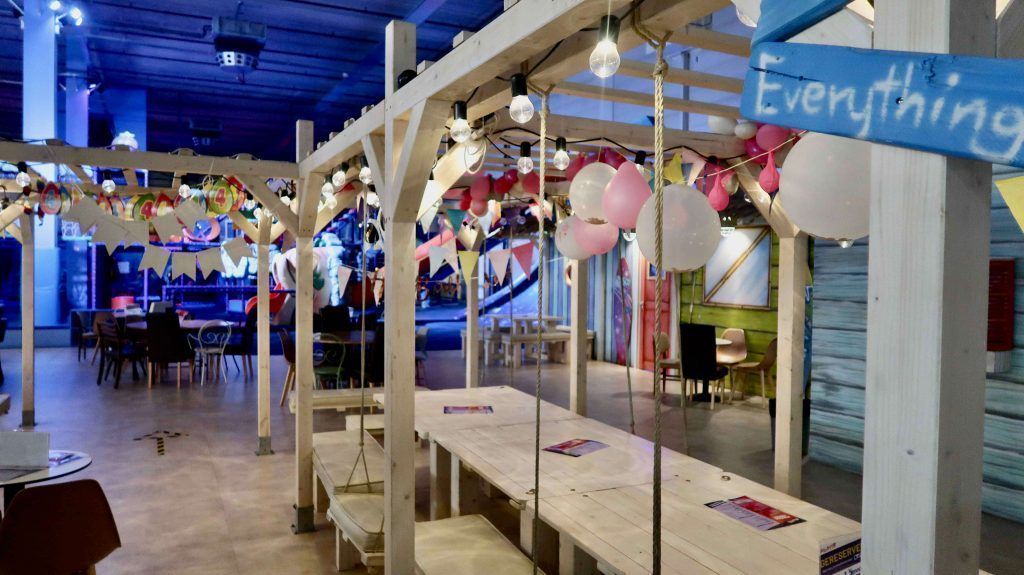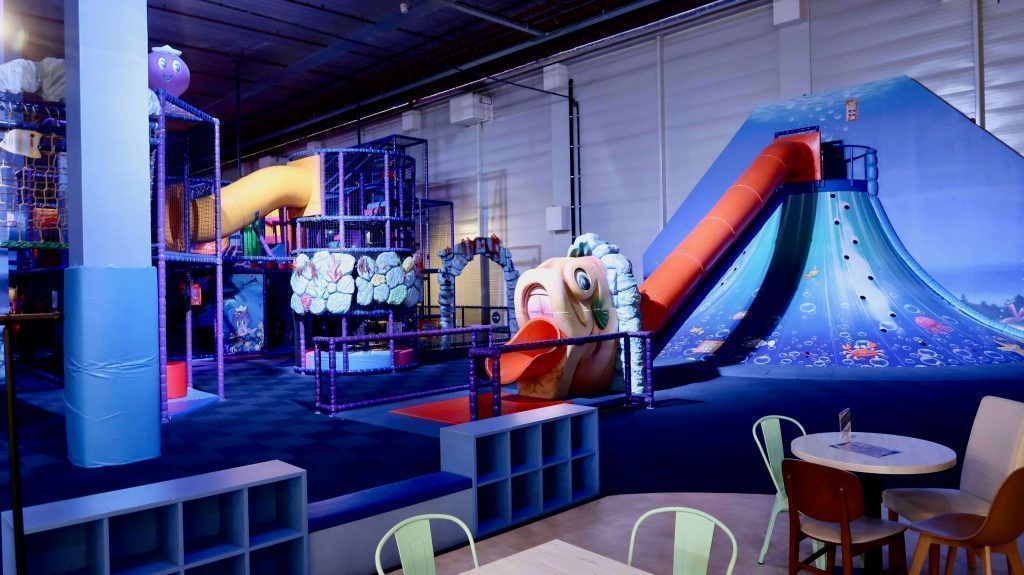 Jump-in
Jump-in is one of Europe's largest trampoline parks with more than 3000m2 of trampolines. There are switched trampoline fields, dodgeball, high performance trampolines, wall trampolines, a slackline and balance beams, air bag, foampits, jumptower and a tumblinglane. Jumping is possible from 7 years and for younger ages there are special mini jump times.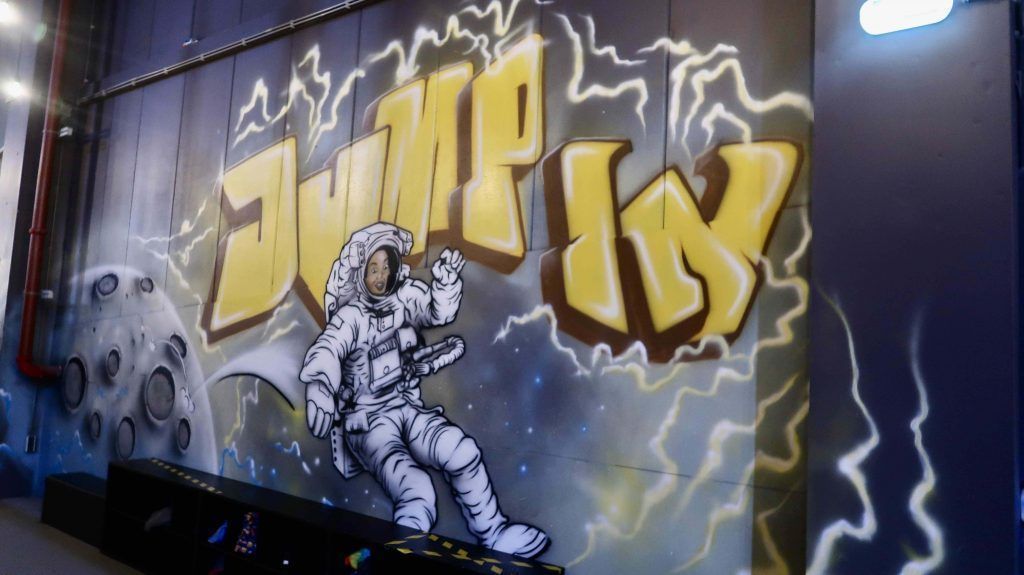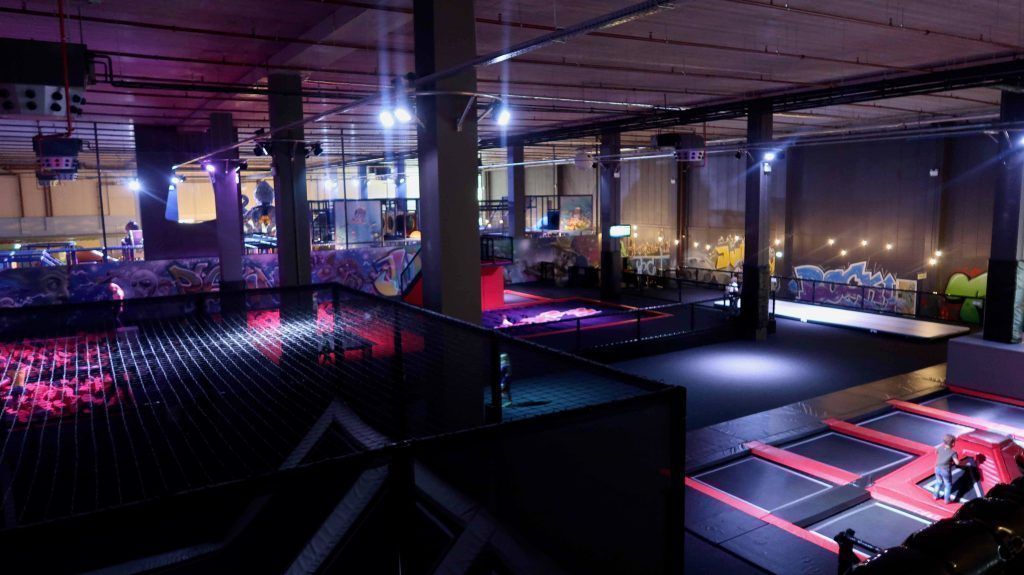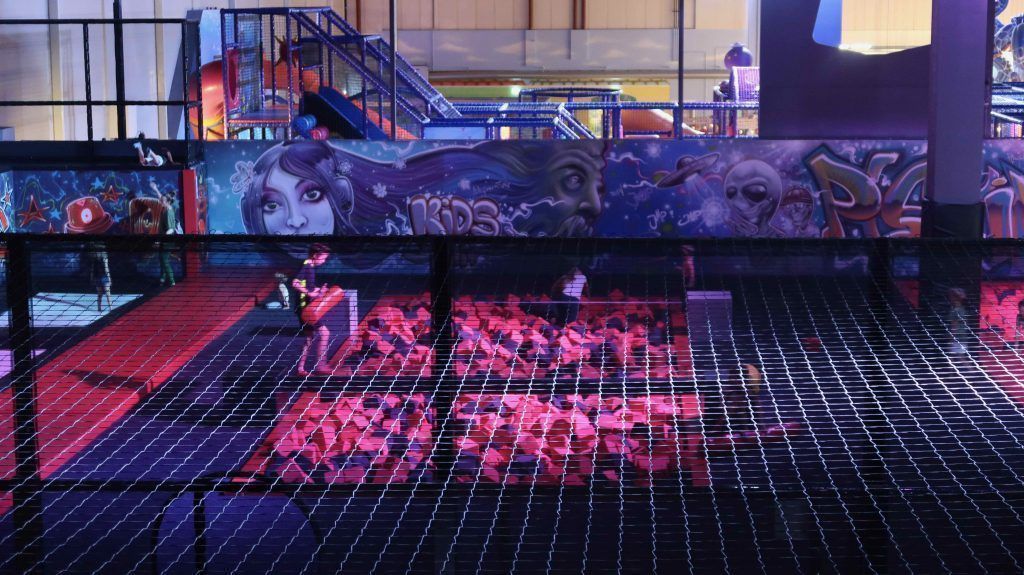 Climb-in
The area at Climb-in looks spectacular, because of the height, the colors and the routes. Now you don't need climbing experience for Climb-in. It is super safe because of the innovative and automatic BelayMate fuse system by TruBlu. You simply 'clip' yourself onto the challenge you want to take on and then you can climb up safely.
Have you climbed out or reached the top? Then the BelayMate system lowers you back down, allowing you to land gently on the special floor. Professional supervision is available and before each climbing session participants are briefed on the safe use of the restraint system.
Climb-in is possible from ca. 4 to 80 years old. It is super fun as a birthday party, a team building or bachelorette day but also definitely recommended as a family activity.
Climbing at climb-in takes an hour.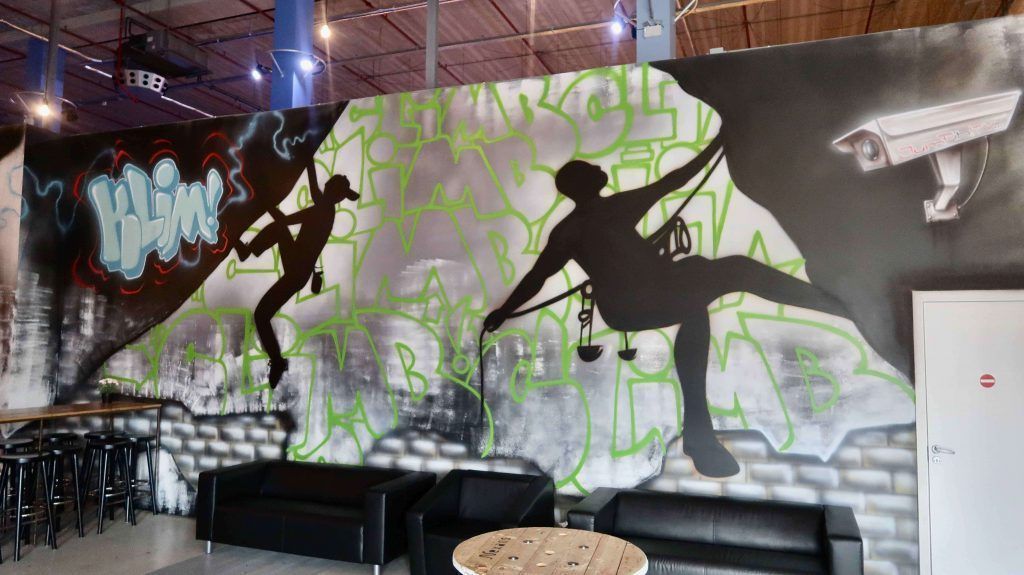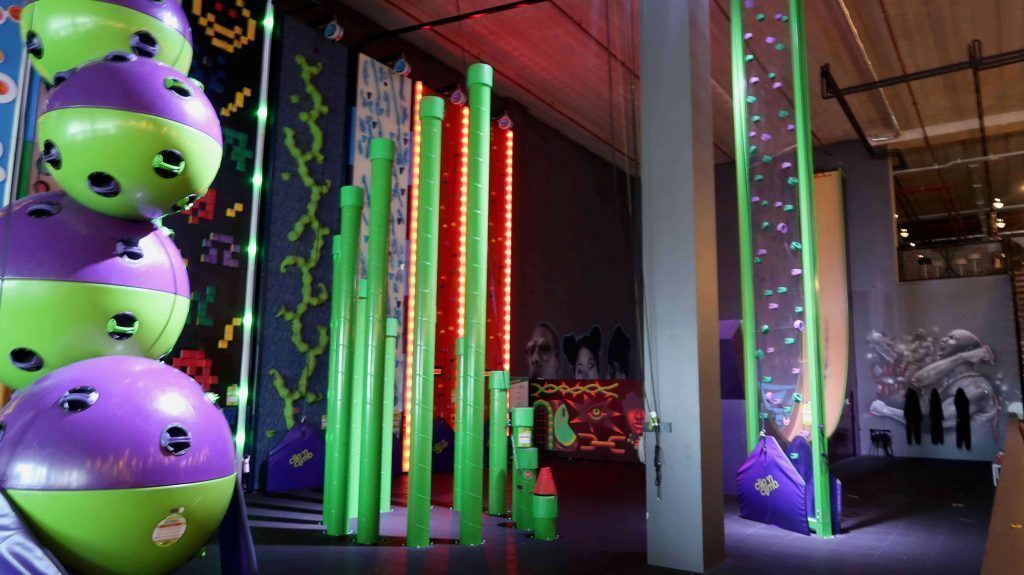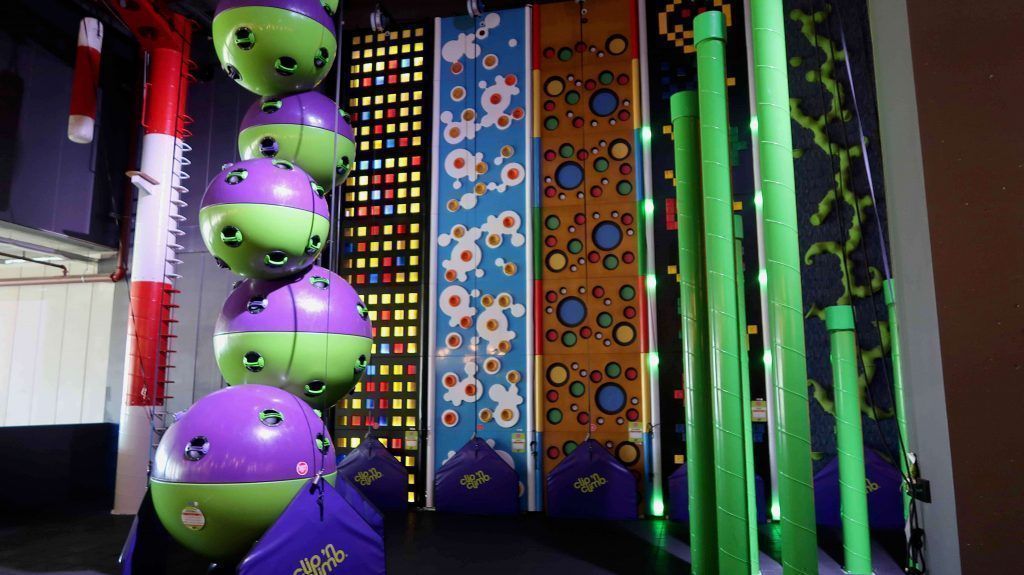 This is what our adventure in Play-in Utrecht looked like
We don't live far from Utrecht and often drive past The Wall. I saw that Play-in was here before, but we had never been inside. That changed the other day. We could report to Kids-in, where the boys got bracelets for the different activities. Here we were immediately impressed by Kids-in.
This space is completely in beach style and it looks so cool. You really feel like you're on the beach, because of the beautiful different spaces, the decoration of surfboards, signposts and also the toilet area is a picture in itself.
Jumping on the many trampolines
The boys first went jumping for an hour, they got socks on and could put their shoes on the side in the cabinets near the jump. While they were having fun on the trampolines, we were upstairs in the skybar having a cup of coffee and could keep an eye on the boys and saw that they were enjoying themselves. Jumping on the trampolines was fun, but also 'fighting' on the balance beam and balancing on the slackline was fantastic.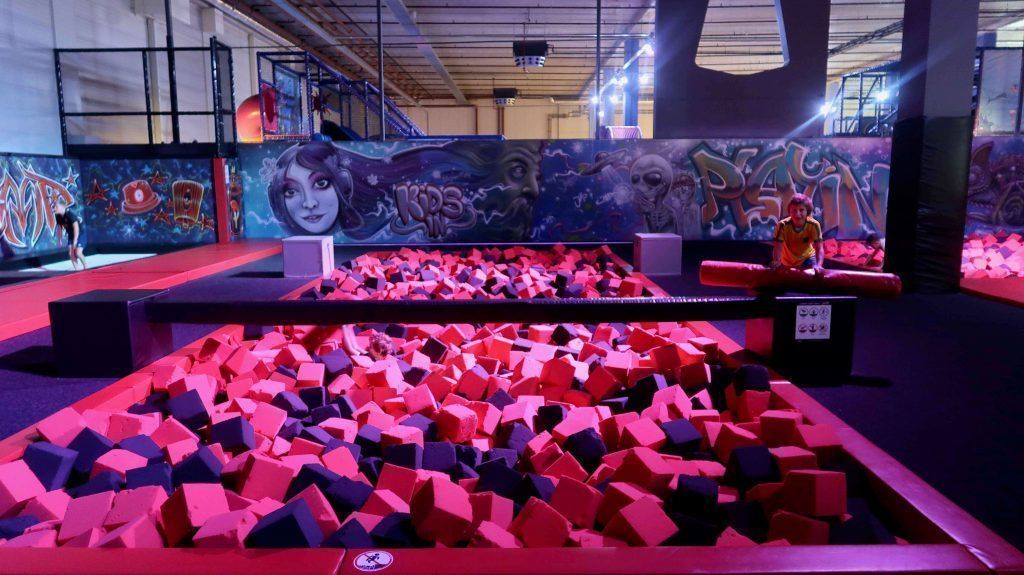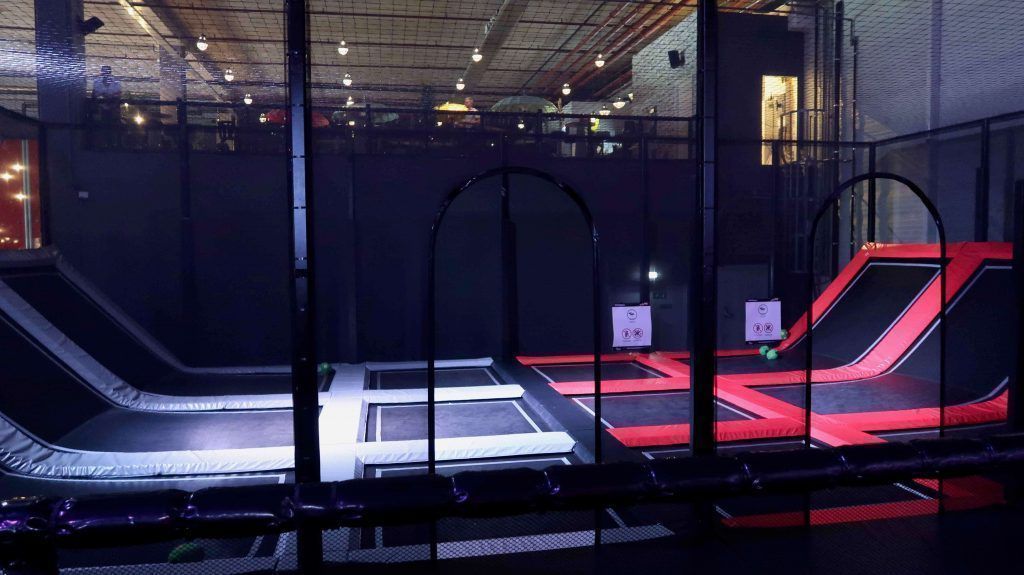 Eating at Kids-in
After an hour of jumping, they felt they had been busy, how cool they thought it was! Arriving at our reserved table at Kids-in they immediately dove for the big slide and built with big lego blocks. In between we ate some French fries and a snack and they drank their lemonade.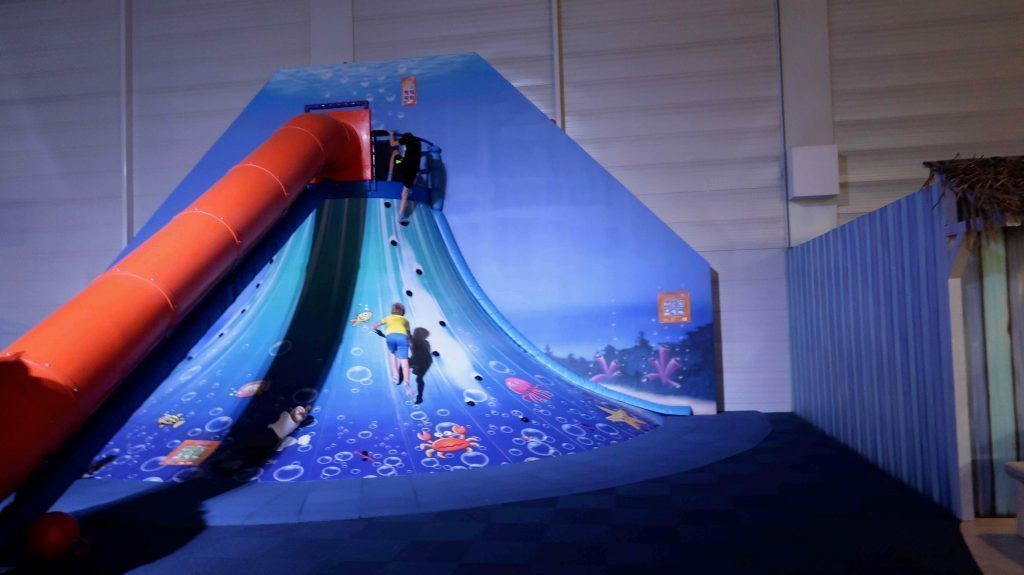 Climbing on colorful walls
Next on the program was climbing at Climb-in. We climb in our free time, so the boys were especially curious about this part. The participants were first shown an instruction video on how to click in, were then given a seat belt and could begin.
Climbing in was a little tricky at first, but we or the staff of Play-in Utrecht, who were around frequently, helped with that. We could take a seat at the sky bar or in one of the comfortable chairs at the climbing area. The boys enjoyed themselves.
They had a lot of fun. They climbed the stairway to Heaven, raced each other on the Speedclimb, tried to climb the Astroball together, imitated each other on the Face-to-Face, and stood on top of the Leap-of-Faith and jumped back down like that.
Extra's at Play-in Utrecht:
Kids-in
In the autumn vacations there is an Okkie day on Monday 19 October: A sporty, fun day of play for children and a wonderful relaxing day or work day for you.

Valid for children up to 4 years
Entry before 11.30
Valid on weekdays, not weekends

Jump-in

Jumping is open to children ages 7 and up. For younger children there are mini-jump times. (On Saturday and Sunday from 10-11, on Wednesday and Friday from 13-14). Siblings under 12 may also jump in at this time if they consider young children (for the normal rate). During mini-jump 1 parent can jump for free if there is a child under the age of 7.
Unlimited Jumping: from Aug. 31. until 8 Oct and 26 Oct until 10 Dec. For €12.90 you can do unlimited jumping from 15.00-18.00 on Monday, Tuesday and Thursday.
Every 3rd Friday of the month 'Jump night' (September 18, October 16, November 20, December 18)

A combination of activities

It is great fun to combine the visit or party to Play-in, so combine Kids-in with trampoline jumping at JUMP-IN (from 7 years old and under 7 at mini-jump-in times) and/or fun climbing at CLIMB-IN (from 4 years old). On the site of Play-in Utrecht you can book combination tickets and also see exactly what possibilities there are.

Practical information

Play-In
The Wall, Hertogswetering 173, 3543 AS Utrecht 030-2099920