King's Day in virtual reality- A festival for charity
King's Day looks different this year. To still be able to celebrate this year, the Kingsday VR Festival will be held. And all proceeds will be donated to the Food Bank.
Still celebrate King's Day
On TV I saw some of these things on TV. Including the national anthem that will be played on April 27. A Housing Day instead of Kings Day, where people from home can still sell their stuff and also I, just get -like every year- orange pastries. But it is and remains a strange day. Weird, as things have been weird lately anyway.
We are all at home and this also brings us together.
Kingsday VR festival
And just that togetherness and the lack of many sports games, parties and festivals might also make us so resourceful about other ways to celebrate parties. To allow everyone to still be able to celebrate King's Day this year, the Kingsday VR Festival is being held. This unique live event takes place on April 27 a.s. from 20.00 to 23.00 hours on Dam Square in Amsterdam.
And in virtual reality!
What to expect during this King's Day?
Performances by Kwambo, Vangrail, SLAM DJ Jochem Hamerling and a special mystery guest have been confirmed so far. Visitors can also virtually congratulate King Willem-Alexander on his birthday.
Remarkable: no VR festival has ever taken place worldwide before. All proceeds will be donated to the Food Bank.
A festival in VR
Now that the corona virus has the Netherlands in its grip and there is little to look forward to, even Kings Day will not be celebrated as normal. A shame, thought VR developer VRROOM. Initiator Schelte Meinsma: "When I drove past the umpteenth poster of a King's Day event that could no longer be held, I thought: can't we organize a festival in VR??" A few phone calls later, it turned out that there was a lot of enthusiasm for it and now people are working day and night to put this unique event together.
Donate to the food bank
The project, appropriately named Kingsday VR is groundbreaking: the maximum number of people simultaneously in a VR environment so far stands at 285. The aim now is to have 30.000 visitors to the festival at the same time. The project is considered a pilot, there is a chance that something could go wrong, although of course everything is being done to make it successful. The organization does not want to make a profit on the VR event in these difficult times.
All proceeds will therefore go to the Food Bank, which can put the money to good use during this period. "Basically, you sponsor the Food Bank and in return you can visit the Kingsday VR Festival on Kings Day," Meinsma said.
Enjoying it without VR glasses too
The festival is open to those with a good pair of VR glasses, think of: HTC Vive, HTC Vive Pro, Oculus Rift or Samsung Odyssey+. But even for those who do not have VR glasses at their disposal, a livestream is available.
What does this festival cost?
Earlybird tickets cost €7.50 and Regular tickets €12.50. There are also VIP tickets available for €35, which also allow you to attend Kingsnight VR, April 26 from 23.00 to 00.00. VIP tickets also offer access to a private area so you can relax quietly on Dam Square.
There are also company tickets for sale; for €100,- you get 10 people access to the festival.
Live shows and fireworks
As previously stated, there will be live shows by Kwambo, SLAM DJ Jochem Hamerling, Vangrail and a special mystery guest. But also music shows by DJ ArminVR, among others & DJ HardwellVR and a light show. The alcoholic refreshment is also present: and bottles of virtual beer are available at the bar (with effect) there is virtual food and you can bungee jump on Dam Square (without a rope).
Scoop: during this first ever virtual reality festival, visitors can virtually shake the King's hand and congratulate him on his birthday. A fireworks show provides the festive finale.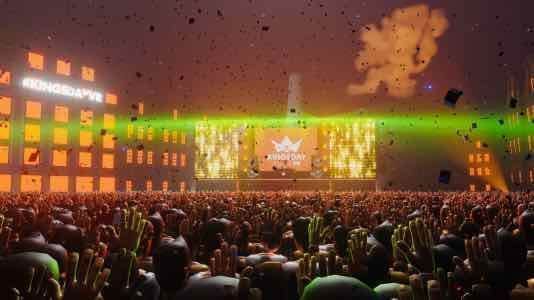 Celebrating King's Day in a different way
So if you want to celebrate this year's King's Day differently? Buy tickets for this virtual festival and support a good cause at the same time. An experience to remember in a time we will never forget either.
For more information and ticket sales, visit www.kingsdayvr.com.
Post April 24:
Wesley Sneijder makes virtual Kings Day festival free of charge
Tickets to the virtual King's Day festival, KingsdayVR, are free for anyone who wants to attend the event. The tickets will be made available to partygoers at home and abroad by none other than Wesley Sneijder. All proceeds from the festival go to the Food Bank.
Former soccer player Wesley Sneijder has previously committed to the Food Banks, which are currently in dire straits. The effects of the corona crisis are rumbling on and there seems to be no end in sight for the time being. People with VR glasses now get free access to the festival.
Sneijder does hope, however, that in return, people will still make a donation to the Food Bank through a Tikkie link.
On King's Day, people with VR glasses of 20.00 to 23.00 hours to enjoy the live music, DJs and fireworks show of KingsdayVR on Dam Square in Amsterdam for free. Since not everyone owns VR glasses, there is also a (free) livestream available.