Toddler birthday; volcanoes treat & volcanoes cake
Last week you could read that my little man turned four years old. I also revealed in it that he would like a volcano party. Sir apparently wanted to set the bar nice and high for his mother.
So to me the, on the face of it, impossible task to make a volcano treat and arrange a volcano cake.
Where does that fascination come from?
In March we went on vacation to Costa Rica. Ten years ago we also went there, without children, and then we got to see an active volcano. The Arenal volcano was showing quite a bit of lava at the time.
Our little man had seen pictures's of this and couldn't wait to see an active volcano himself. Unsuspecting, we arrived at the same volcano again this year. As it turned out?
The volcano turned out to have been dormant for several years. What a disappointment. Our toddler's fascination with volcanoes has not diminished with this.
His big wish now is to go to Iceland to see volcanoes.
A volcano party, how?
So a few weeks ago when I asked Mr. what kind of party he wanted, the answer was; 'a volcano party!'
The wheels started turning and I decided to arrange a volcano cake then and make a volcano treat (for the farewell at preschool). So I crawled behind the computer, ordered a cool cake from Lovely Baked and cookies from the Little Kitchen and got to work.
Volcanoes treats
From brown cardboard I cut a load of half rounds. I folded this one around like a pointy hat and glued it in place. I cut lava out of red and orange paper and glued it to the top of the volcano. Then I cut strings of red, yellow and orange crepe paper. This I put at the top of the volcano, as if the volcano is erupting.
Finally, I made little flags out of gray cardboard on which I, the little man, put his name and age. I filled each volcanoes treat with a Superhero (sugar-free cookie) from Little Kitchen and the party could begin.

Volcanoes cake
After the big party at preschool, where he treated and said goodbye to the teachers, it was time for his birthday party with friends and family.
In the past I sometimes made cakes myself with fondant and marzipan. I find it super fun to do but it also involves some time, energy and money. So I preferred to leave the volcanoes cake to a professional so I ordered it from Lovely Baked.
We were extremely happy and surprised with the end result. The cake not only looked cool but was also delicious.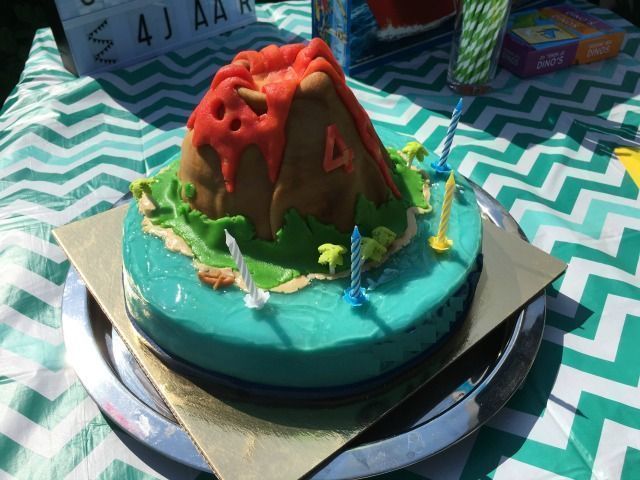 In short, a successful party where the little man was hugely spoiled!
Looking for more treat inspiration? Check out these fun Superhero treats!
Do you ever use theme with your child(ren)'s birthday? Do you have any fun tips?
♥ ♥ ♥ Fulltime Mama uses affiliate links. This means that if you click on one of the links, we may get a small commission on it. It costs you nothing extra, but it does give us something.
With this revenue we can maintain this website. We also sometimes get paid for an article or we get a product in exchange for a blog post. Our opinion remains unchanged and honest because of this. For more information you can read through the disclaimer. ♥ ♥ ♥