Little men grow up
Yesterday I drove to beautiful Brabant with the children. A day of polder sniffing, lamb cuddling and catching up was planned. I left the big man at home and together with my rascals I went on the road. Packed and loaded, we drove away from the coast heading south. And there I noticed again that the oldest is really not so little anymore.
Little men grow up.
Little men grow up
My oldest, here also called little man, is now over 3.5 years old. Yesterday he was allowed to visit grandparents far away again. We sit in the car for an hour and he loves it. He talks non-stop about everything he sees along the way.
About the cranes near Rotterdam, the zebra along the road (yes, there really is one), the windmills near the A15 and the signs above the highway. Really nothing escapes his attention and everything is discussed in detail. Just from these little conversations I can tell that he is really ready to go to school.
He wants to know everything about everything and looks for a challenge in everything.
Farm
So also to the farm where my sister works. When we are at my parents' house, it is actually a regular thing to go to the farm for a while. My sister works there, her pony's are there and actually she is very happy there. My little man has been coming there since he was born.
Where as a toddler he watched the cows and horses with admiration, now he stands breathlessly studying the milking robot. Of course he still likes the animals but his interest has now gone much more to the technical side. He wants to know all about that.
"What is that bar for??"
As soon as we get to the farm he wants to go to the milking robot. He finds that such'a fascinating thing. Together with my sister, Jut and Jul then sit on their knees watching one cow being milked after another.
On the screen he then watches how many liters of milk the cow gives. Nothing goes unnoticed because soon he notices several bars on the screen. My sister then has to explain in detail that those bars indicate the cow's milk production.
The little man fires off one question after another. He wants to know everything and actually has no time for other things. Last year he was already fascinated to look at the robot but now he really wants to know exactly how it works.
Well, little men grow up.
Melt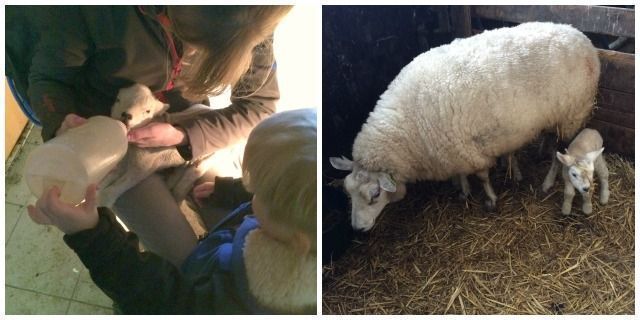 Despite his fascination with the milking robot and the tractor, he was also endeared by the little lamb. We could bottle the little lamb together. I already melted enormously of that little white frumm on my lap, when my little man also said; 'Cute huh, mama?'. Melt.. My mother's heart almost exploded with endearment.
I told him I actually always find baby animals really cute. 'But I'm sweet too, huh mom?' Of course friend! And then that big guy is suddenly my little man after all..
Have you children ever been to a farm?? What did they like best there?
♥ ♥ ♥ Fulltime Mama uses affiliate links. This means that if you click on one of the links, we might get a small commission on it. It costs you nothing extra, but it does give us something extra. With these proceeds we can maintain this website. We also sometimes get paid for an article or receive a product in exchange for a blog post.
So our opinion remains unchanged and honest. For more information please read the disclaimer. ♥ ♥ ♥