Iron-free shirts for your leisure time
Make sure you always look nice and well-groomed? And not only when you go to work but also in your spare time, when you might not meet anyone and have no appointment it is nice to be well dressed.
Unflatteringly dressed
When I stopped working, I quickly grabbed a pair of jeans and a shirt in the morning. I put my hair in a ponytail, no makeup, flat shoes on and ready for a day with the kids. I did this for a long time. Until I suddenly thought: Why do I look so unflattering? And I'm not saying that you look unflattering in jeans, but the way I dressed back then it was this.
I had so many nice clothes in my closet, why didn't I wear this?. Because besides my children I didn't meet anyone that day? So What. I soon noticed that if I go into the day well dressed, I feel much better myself.
Cheerier, prettier.
A husband and free time
My husband has the same thing. To work, he dresses fine. Neat with shirt and jeans. Until he's free. After work or on weekends he sometimes wants to do odd jobs or take up a hobby.
Then the neat clothes go off an old (preferably piece) shirt and pants on. Logical and totally fine. Better this than borrowing his good clothes for it.
However, it then tends to spend the rest of the evening or weekend in his old clothes.
To a party well dressed
Previously he often wore suits to work. Because this made it feel like work, with a party or Christmas, for example, he didn't want to wear a suit coat. He does like to put on a nice shirt on these occasions to be well dressed.
And they also go great with a nice shirt or shirt.
Shirts
You read, he does not have to dress up for me at all, but in the weekend when the work is done, I like it when he puts on his normal clothes and sits next to me on the couch a bit dressed up. At Hemdvoorhem.en I found a very nice shirt. A shirt he can wear both for work and in his spare time.
I learned Hemdvoorhem.nl know on the Blogger by Nature event. They immediately had my attention when they talked about ironing-free shirts I was excited when I was asked if the husband wanted to receive a shirt. Because I don't know who does your ironing, but here it is me.
Shirt for Him
The shirt he received from Hemdvoorhem.nl is a blue shirt from Olymp Luxor, It is a modern tailored light blue structure shirt with blue contrasts. The textured fabric is fuller and less see-through than normal poplin. A long-sleeved shirt with white fabric with small dots in the cuffs and in the border of the global Kent collar. The shirt closes with dark blue buttons. A model with chest pocket, Italian buttons, cuff combination and subtle logo embroidery.
The iron-free and 100% cotton shirt stays nice and smooth all day long! Because of the cuffs and the pocket, the shirt is sporty but also dressy. My husband is positive, the shirt wears fine, the fabric is soft and the shirt looks sporty but also fine dressed for work.
Iron Free
After washing I noticed that the shirt was not completely wrinkle free from the machine. Well my drum was very full, I must confess. When I hang it next to another shirt that was also in the same drum, ( behind is the other shirt, in front of the iron free one) you do see that the shirt came out of the wash much less wrinkled. It was therefore a piece of cake to iron.
Once with the bolt over it and the shirt was wrinkle free.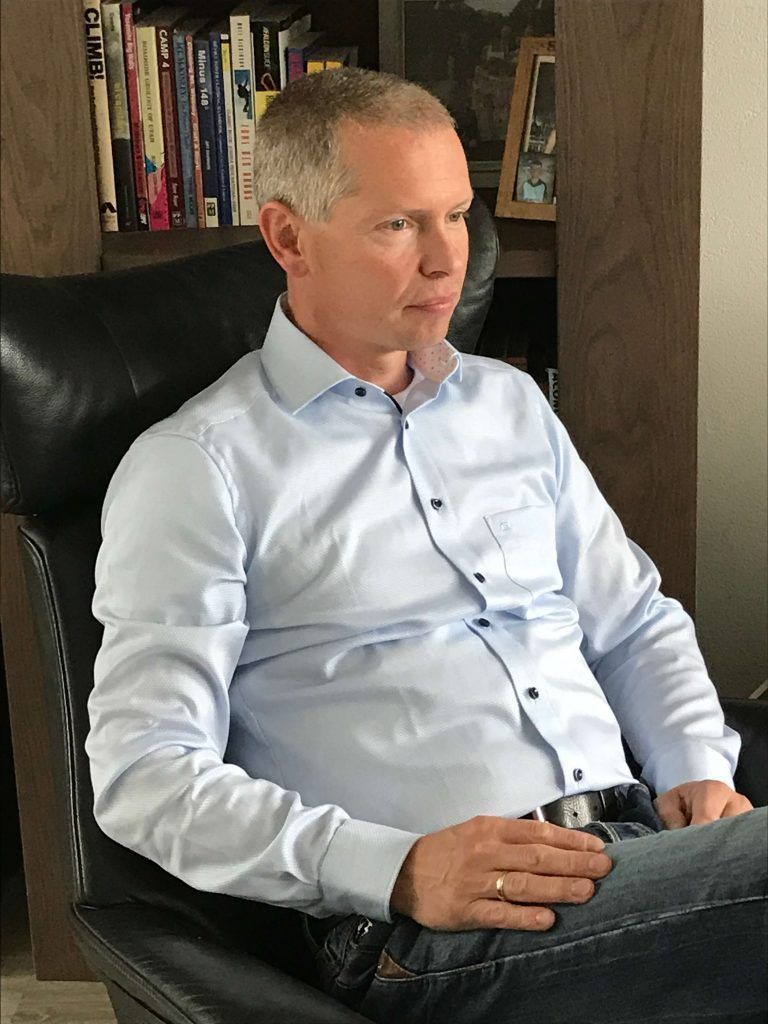 Another bonus for me is that the shirt came in a nice black box in the mail. This also makes it very nice to give as a gift.
The collection at Hemdvoorhem.nl is large and besides shirts they also have socks, boxer shorts, polo shirts and t-shirts. For the entire collection take a look at the site.
Does your husband wear shirts in his spare time, also rather a t-shirt?