Mini monchou cakes in bright colors
Do you like baking too? Then now I have a fun and delicious recipe, namely the recipe of mini monchou tarts. They are super happy and very tasty, although I did go wrong the first time, but I have adjusted it and I will not make that mistake again!
A recipe from SugarHero
Recently I saw a post on Facebook. A post by SugerHero with Easter mini cheesecakes. Now it's not Easter yet, but cakes are always good here at home.
Now this recipe I saw was sponsored and contained products I could not find in the Netherlands. I decided to give it my own twist. This didn't go quite right the first time, but the second time they were perfect and delicious.
Mini cheesecake
How beautiful it looked, super cute mini cakes in pastel colors. I saw it and thought, I want to make that too. Well it was an article with youtube movie from America. I first started translating the products and adjusting the measurements from oz to grams. While I was working on this, I understood it was an article where she had to promote a product.
It was a kind of creamer, which I could not find here in the Netherlands. And while I was translating I thought I'd better adapt the recipe to my own recipe of a monchou pie.
So it became something else
SugarHero's recipe included cheesecake and shortbread cookies. Since I can't find any shortbread cookies here in the store, I thought about using Bastogne cookies. And then came the question: is cheesecake cottage cheese or monchou?? I didn't really get this.
Since I wasn't sure if the combination of cottage cheese and Bastogne cookies would be good I decided to make it with monchou then. I have a recipe for a monchou pie that a former colleague gave me years ago.
I made a mistake anyway
Now I'm still a bit stubborn. I saw gelatin powder in the recipe. Powder I could not find anywhere, but of course I could find gelatin leaves.
While I was working on the tarts it occurred to me that gelatin leaves were of course not necessary at all. I used whipped cream. Surely this would be enough? Well no, not really.
My cakes completely collapsed.
Missed tarts
Now here in the house they were enthusiastic about the cakes, because the taste was very good. So a week later I tried it again and this time did use the gelatin leaves. The result was beautiful, not as tight as the cakes of the lady in the movie, but maybe I should really try cottage cheese for that one time.
Enough.
Mini monchou tarts
How did I make these cakes?
What you need
Half a pack of bastogne cookies
50 grams of butter
200 grams of Monchou
250 ml of whipped cream
100 grams white caster sugar
1 bag vanilla sugar
6 sheets of gelatin
food coloring (I used Dr. Oetker's)
decoration: whipped cream, marshmallows, sprinkles, sprinkles etc.
silicone muffin cups
How to make it
Put the gelatin leaves in cold water and let it soften.
Melt the butter in a pan and crumble the cookies. I always do this in the food processor. Stir the butter into the cooling crumbs and place a spoonful each in the bottom of the muffin cups. Press well with a spoon.
Mix the sugar, vanilla sugar and monchou together and whip the cream until stiff.
Squeeze the gelatin well and add 3 tablespoons of hot water, stir well.
Add the gelatin to the monchou
Mix the monchou with the whipped cream and stir carefully.
Divide the cream and monchou into 4 containers and add a drop of food coloring. Stir well.
With an ice cream scoop you scoop the monchou into the molds, flatten them with a spoon and then you can put the next color on them.
Leave to set in the fridge for at least 2 hours and then remove from the muffin tins.
You can decorate it with anything, I chose whipped cream and marshmallows.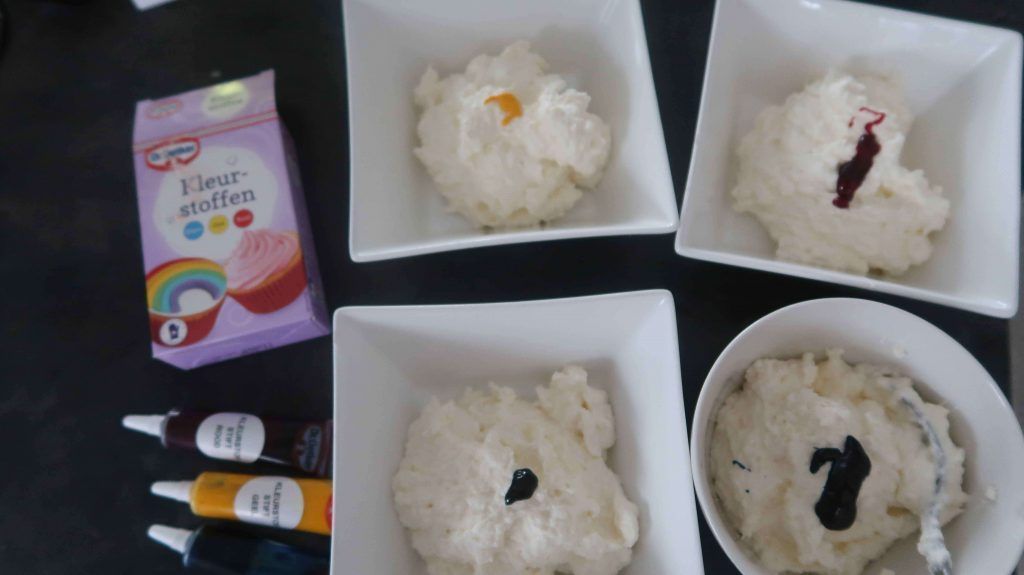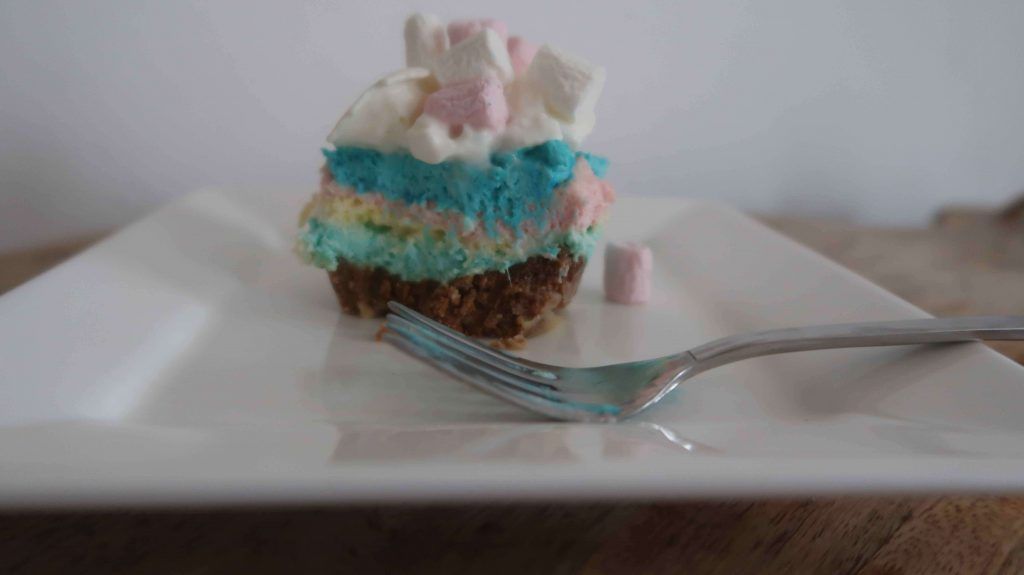 The result
So the first time they were way too limp. The second time I added the gelatin leaves and I immediately noticed the monchou was much firmer. This made the cakes look beautiful and were super tasty