Children's clothing Wishlist
Oh, how greedy I get with all the new collections of children's clothing. With a little girl coming, I can go completely. Too nice. The little man must also have a nice addition to his closet. It grows like cabbage and long sleeves and sweaters from last winter really no longer fit.
Make a start with a start wishlist for the upcoming fall/winter.
Wishlist
Tumble ' n Dry is such a brand that I always have something in house. The new winter collection looks super nice again. Rich fabrics, tough colors and prints, I love it.
There is a gift for the little man jeanslook sweater on my wishlist. With a tough rust brown jeans underneath. Mr. does not like vests and prefers to wear a sweater in the winter.
This set is super cool but dressed.
Also for the upcoming little lady there is too much fun to shop at Tumble ' n Dry. Since I secretly hope they have a penny girl is a peach -colored sweater with a horse on it. (For the people who think, what is she talking about? A penny girl is a girl who loves horses.
Yes, I was one and secretly I am still.) To be tasty then girly to make a mega cute skirt. Nice warm coarse knitted tights underneath and ready madam. This set is not really suitable for one yet newborn But the winter takes a long time so she will probably be able to handle this once.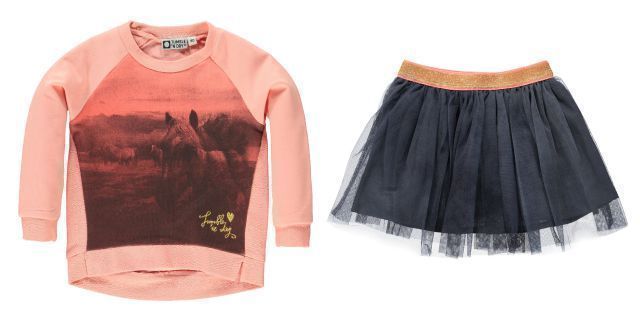 What I'm still looking for
For the toddler I am still looking for cool jogging pants. Not so ' n error sports suit but a stylish responsible pants that are just comfortable. The little man mentions Such ' n Broek, a ' Airplane pants '. He was allowed to take these pants on the plane to Sri Lanka, hence the nickname. Last year he had a very nice with army print, also from Tumble ' n Dry.
When we have a nice relaxing day or play in the ball tent, it is always nice to put on such pants. It is only becoming very small at the moment. So looking for a new one! Someone have nice tips?
We haven't found it yet.
Furthermore, we also look for a tough outfit that the little man can handle on his sister's baby shower. OK, the baby is not even born yet but you have to do something if you are not that mobile anymore. So just surf and shop online.
Looking for the perfect summer outfit for the toddler.
What do you have on your children's clothing wishlist? Another tips where I definitely have to take a look?
♥ ♥ ♥ On full -time mom, affiliate links are used. This means that if you click on one of the links, we may get a small committee about it. It doesn't cost you anything extra, but it will give us something.
We can maintain this website with these yields. We also sometimes get paid for an article or we get a product in exchange for a blog post. Our opinion still remains unchanged and honest. For more information you can read the disclaimer. ♥ ♥ ♥